Comprehensive Grand Dunman Review, New Launch Condo Near Dakota MRT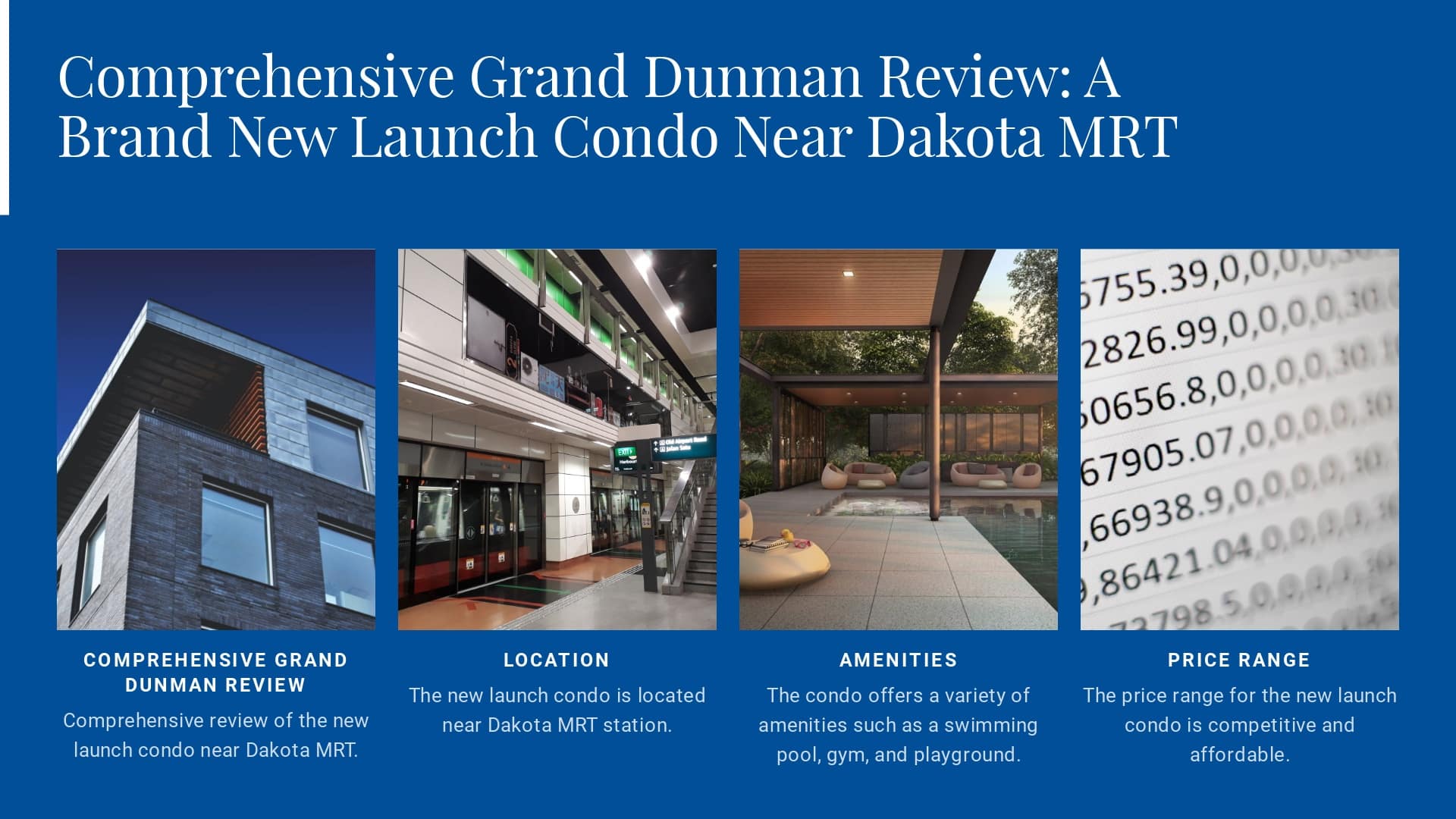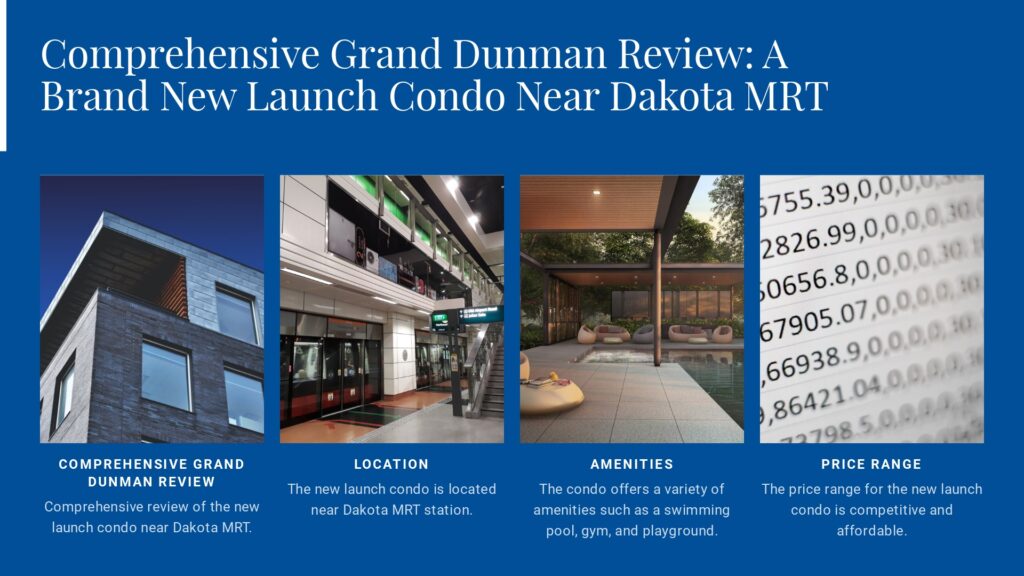 Add a header to begin generating the table of contents
Grand Dunman Video Review
Grand Dunman an estate of a leasehold nature that will be established within Singapore's District 15. This establishment will be under the purview of Sing-Haiyi Jade, a SingHaiyi Group constituent. The development will rest on an expanse of land measuring 25,234.3 sq m (271,619.74 sq ft) and boast 1,035 condo units. These domiciliary units will range from one to five bedrooms.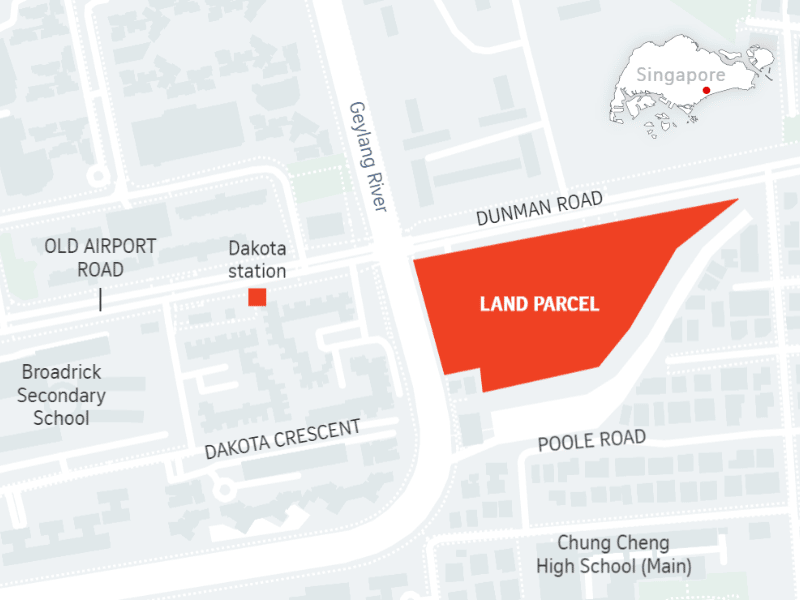 Grand Dunman enjoys a position adjacent to the Dakota MRT station that's part of the Circle Line. A mere stop from this location is the Paya Lebar Sub-Regional Centre. The Paya Lebar MRT interchange (which covers the Circle and East-West Lines) is also located here.
In essence, the locale serves as a quintessential conduit, facilitating smooth transit to prominent occupational nexuses such as the Central Business District, Tampines Regional Centre, and the Changi Zone. This encompasses Changi Airport, Changi Business Park, Changi Aviation Park, and Changi Metropolis.
The primary aim of this review of Grand Dunman is to appraise its locational attributes, design features (to be updated), and investment potential. Such an evaluation will help you decide whether the establishment is the right property for you to invest in.
Unique Selling Point of Grand Dunman Condo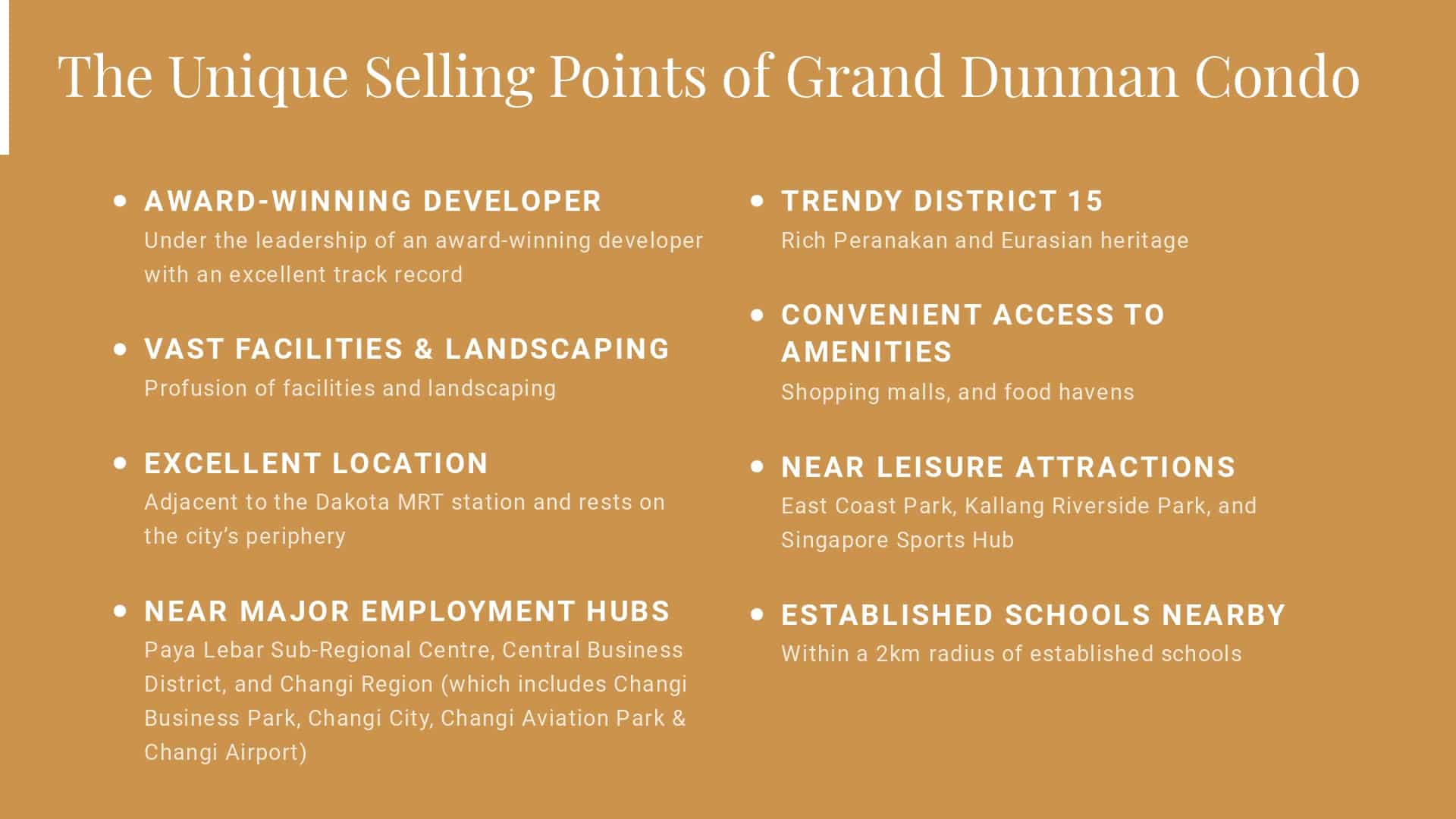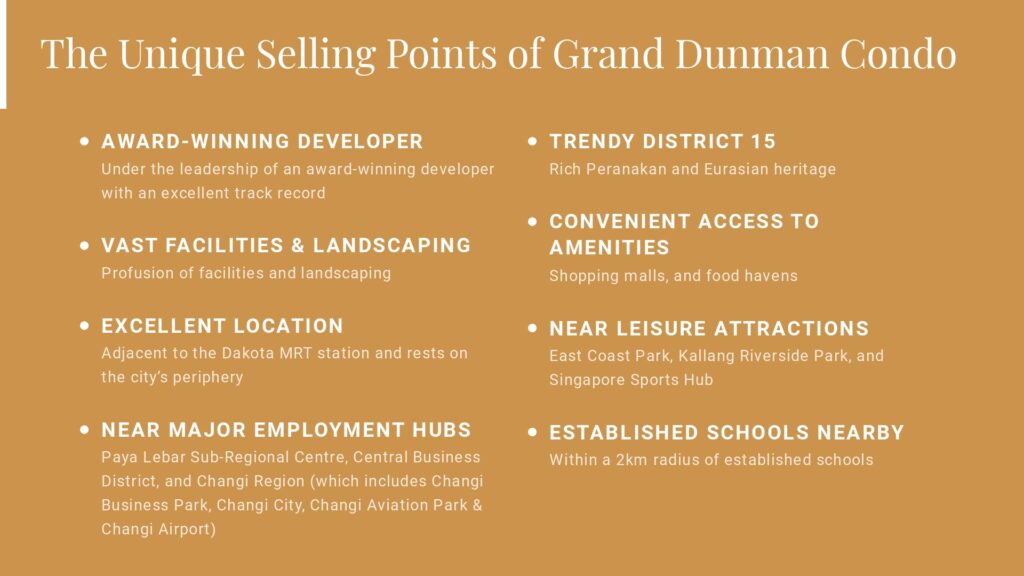 The unique selling points of Grand Dunman are numerous. For starters, it's under the leadership of an award-winning developer with an excellent track record. The development is vast, with a profusion of facilities and landscaping. Moreover, its location is excellent. It's adjacent to the Dakota MRT station and rests on the city's periphery.
Additionally, it's near major employment hubs such as Paya Lebar Sub-Regional Centre, Central Business District, and Changi Region (which includes Changi Business Park, Changi City, Changi Aviation Park & Changi Airport). Also, it's situated within the trendy District 15, known for its rich Peranakan and Eurasian heritage. Furthermore, Grand Dunman offers convenient access to amenities, shopping malls, and food havens. Lastly, it's near popular leisure attractions such as East Coast Park, Kallang Riverside Park, and Singapore Sports Hub. Furthermore, the development is situated within a 2km radius of established schools.
Grand Dunman Development Information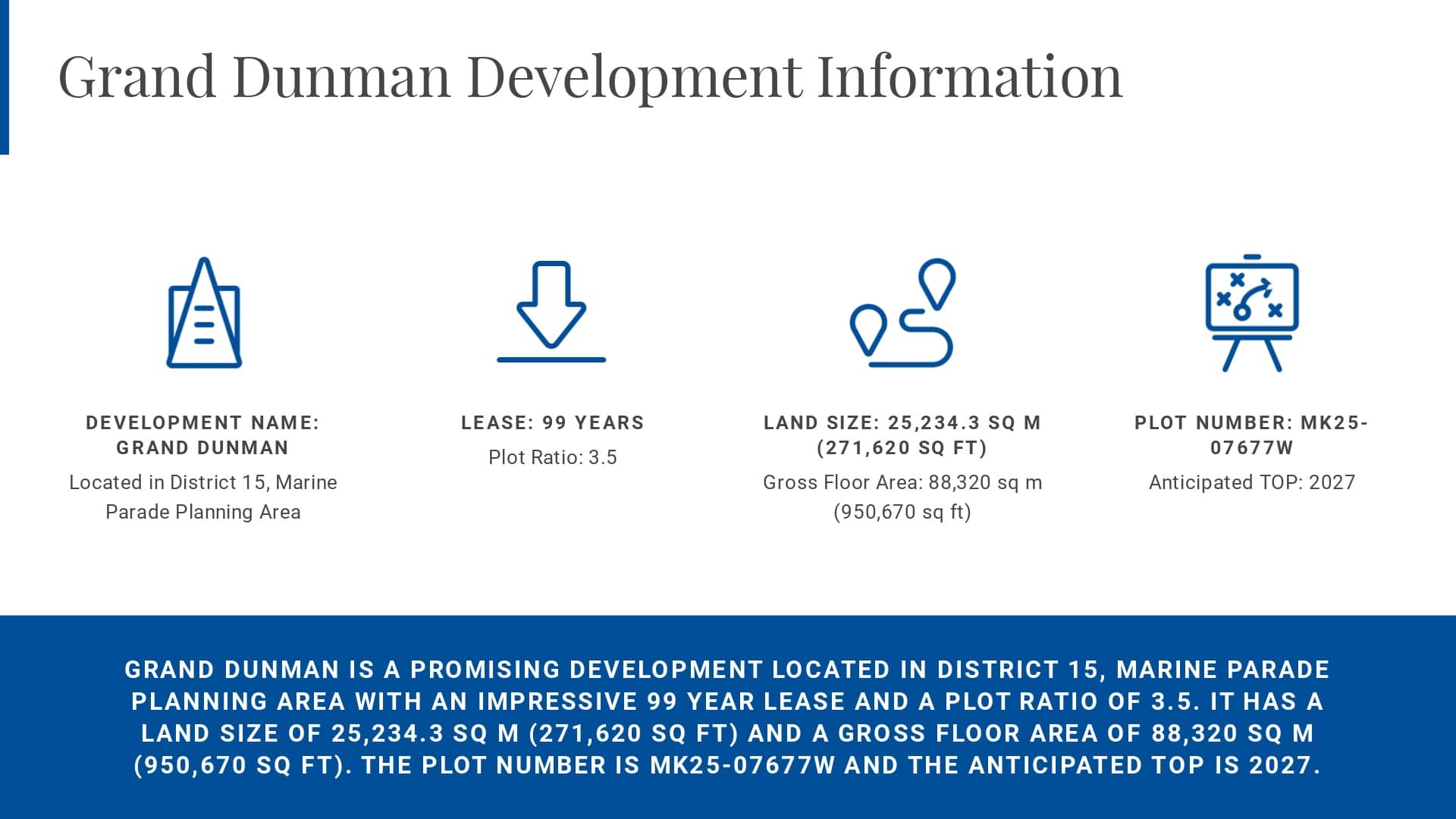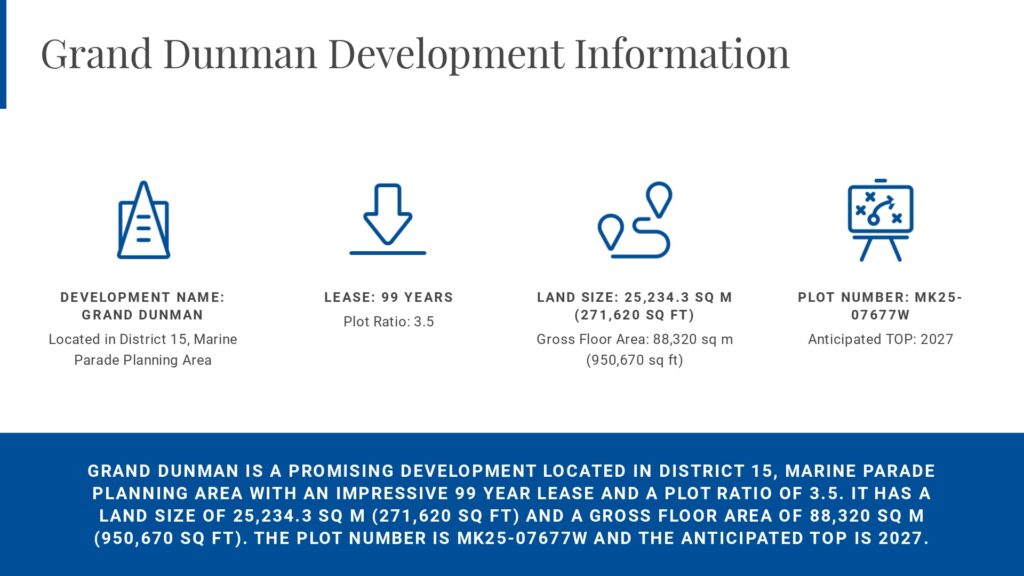 The compendious Grand Dunman Condo Fact Sheet discloses vital intelligence concerning this particular progress. The appellation of this establishment is the noteworthy Grand Dunman, and SingHaiyi Jade Pte Ltd, a subordinate company of SingHaiyi Group, is currently constructing it. The development is situated in District 15, a significant Marine Parade Planning Area constituent.
The registered location of Grand Dunman is specifically at 2 Dunman Road. Its lease stands at an impressive 99 years, while its plot ratio is 3.5, with its land size spanning 25,234.3 sq m (271,620 sq ft). Grand Dunman takes pride in its expansive gross floor area of 88,320 sq m (950,670 sq ft), constituting 1,035 units. Its plot number is marked explicitly as MK25-07677W.
The anticipated TOP for this promising development is estimated to occur in 2027.
Who are the Grand Dunman Developers?


Sing-Haiyi Jade, a subsidiary of SingHaiyi Group, is the real estate developer for Grand Dunman. SingHaiyi Group is a rapidly expanding, multifaceted organization focusing on property development, investment, and management services.
In addition to a well-established history of residential property development, it also manages a diversified portfolio of income-generating assets in the commercial and retail sectors.
SingHaiyi Group has received numerous accolades, including the Building and Construction Authority (BCA) "CONQUAS STAR" rating for City Suites and The Vales and various design and architecture awards from PropertyGuru and Asia Property. The Gazania, Parc Clematis, The Vales, and City Suites are some of its recent residential ventures.
What is the estimated selling price of Grand Dunman?
The prices for Grand Dunman have yet to be revealed, but during the government land sales for the site, Sing-Haiyi Jade submitted the highest bid of $1.284 billion, resulting in a land price of $1,350 psf. Based on this, it is projected to be launched at an average price of approximately $2,550 psf. Nonetheless, Grand Dunman will be a tempting option considering Meyer Park's en bloc sale, which had a land rate of $1,668 psf and an anticipated launch price of roughly $3,100 psf.
Where is the location of Grand Dunman condo?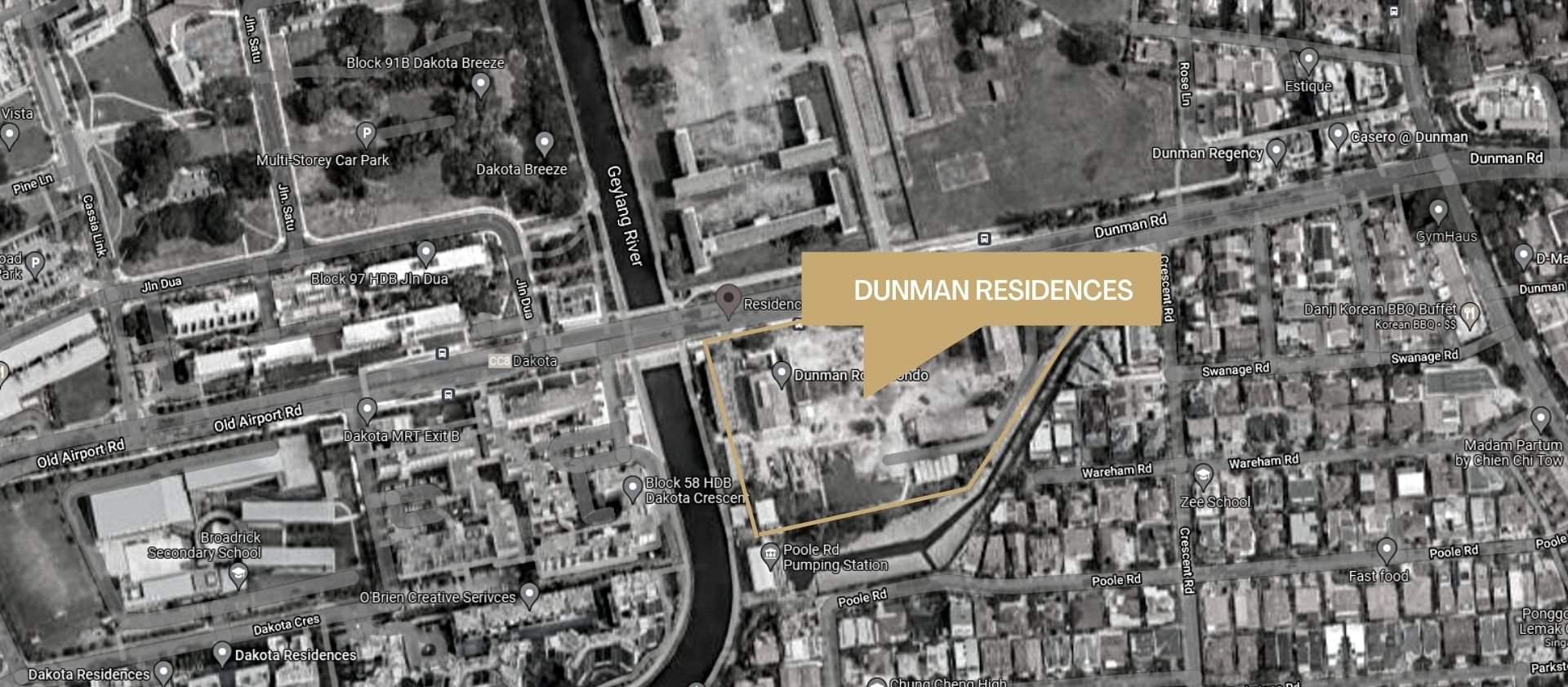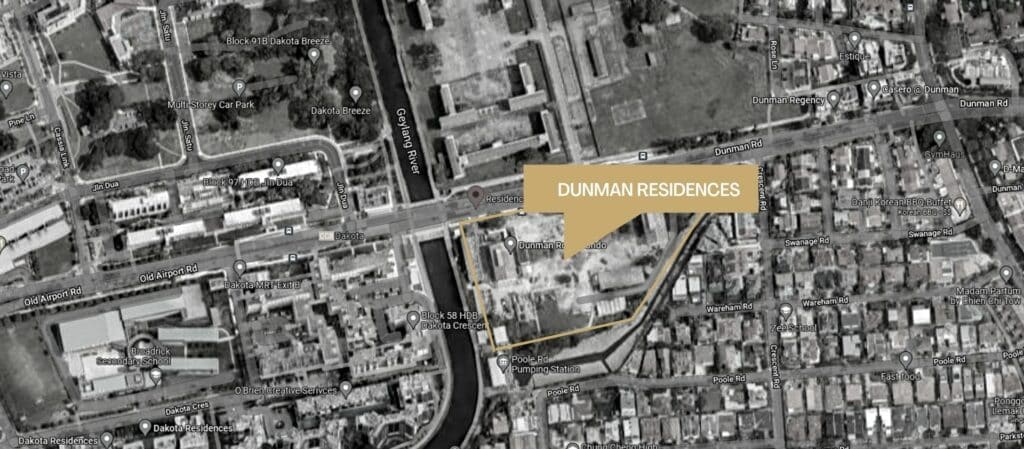 Grand Dunman condo is situated on Dunman Road, adjacent to the Geylang River. To the north, south, and east, the region is characterized by landed and low-rise housing, ensuring excellent air ventilation throughout the site, while units facing south will have glimpses of East Coast Park and the sea. To the west, across the Geylang River, is Dakota Crescent, a predominantly HDB precinct. In addition, the Dakota MRT station is just less than 5 mins walk away and good food options like at Old Airport Road Hawker Center is just few minutes away from the hosuing apartment.
Connected Living: Grand Dunman Condo's Exceptional Access to Public Transport Networks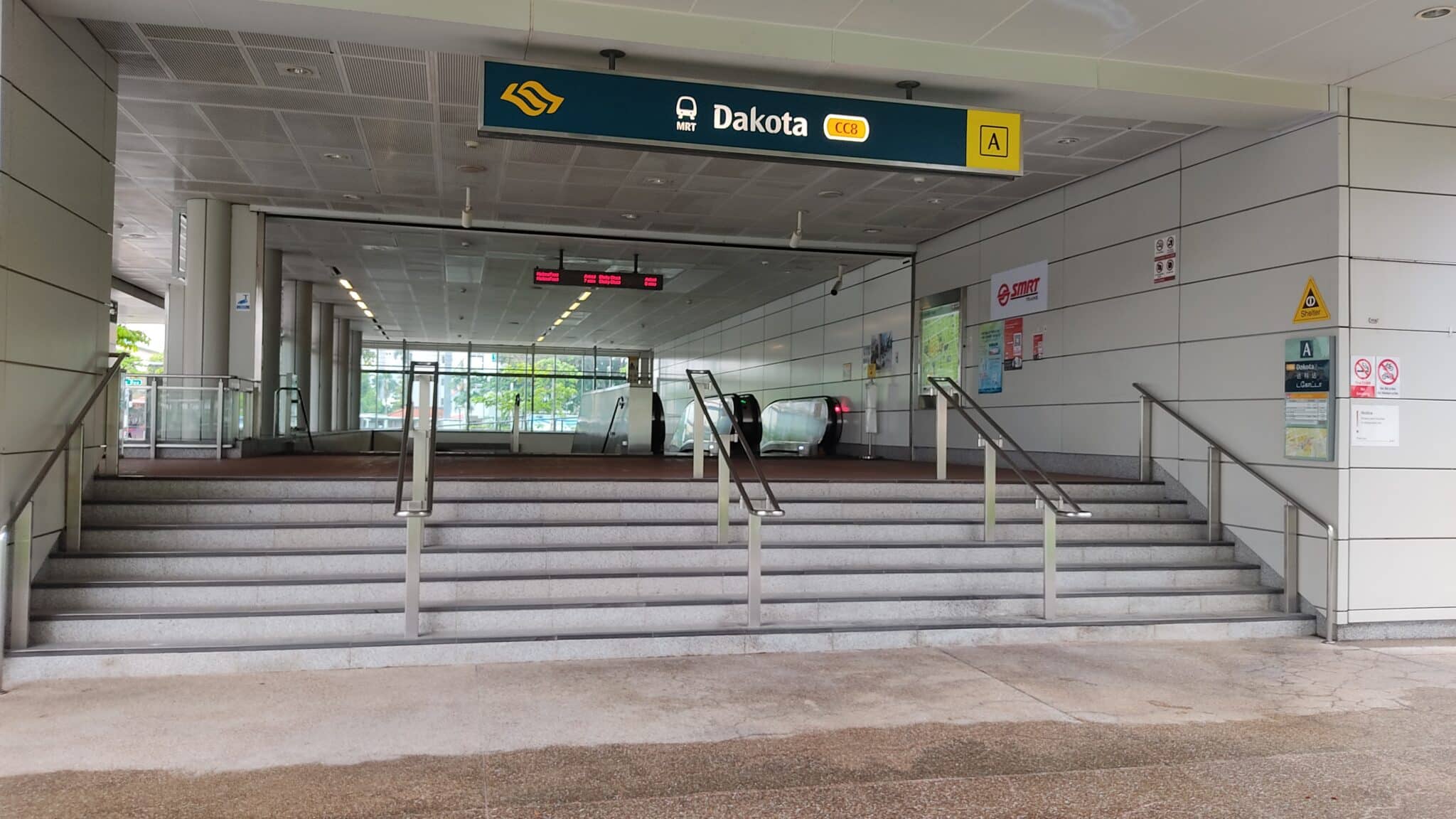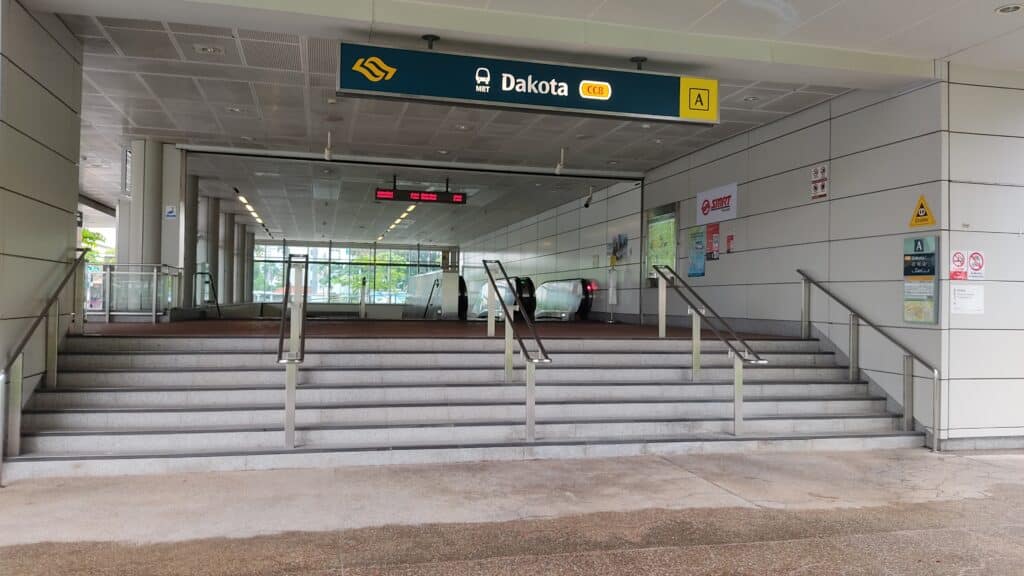 (Img source reference: Wikimedia Commons)
Grand Dunman Condo boasts excellent connectivity to the city's public transport system. Situated next to the Dakota MRT station on the Circle Line and close to several MRT interchanges, the development ensures seamless access to popular shopping, entertainment, leisure destinations, and major employment hubs.
Residents can access many of these destinations within seven or fewer MRT stations. These include Paya Lebar Sub-Regional Centre, Leisure Park Kallang, Singapore Sports Hub, Esplanade, Marina Bay Sands, Gardens By The Bay, Bugis Junction, Marina Bay Financial Centre, Expo, and Changi Airport.
In addition, several MRT interchanges are near the development, such as Paya Lebar, MacPherson, and Promenade. Furthermore, the Dakota MRT station is next to Grand Dunman Condo, with Paya Lebar MRT station only one stop away.
With major expressway such as Pan Island Expressway (PIE) and East Coast Parkway (ECP) minutes away commuting by car is very convenient.
This significantly reduces travel time, with a trip to Downtown Singapore and Changi Airport taking only 6-13 minutes, while East Coast Park is only 4 minutes away.
Grand Dunman Condo is the perfect residence for those seeking a well-connected and convenient location within the city's public transport system.
Thriving Business Districts Within Reach: Unveiling the Employment Hotspots Near Grand Dunman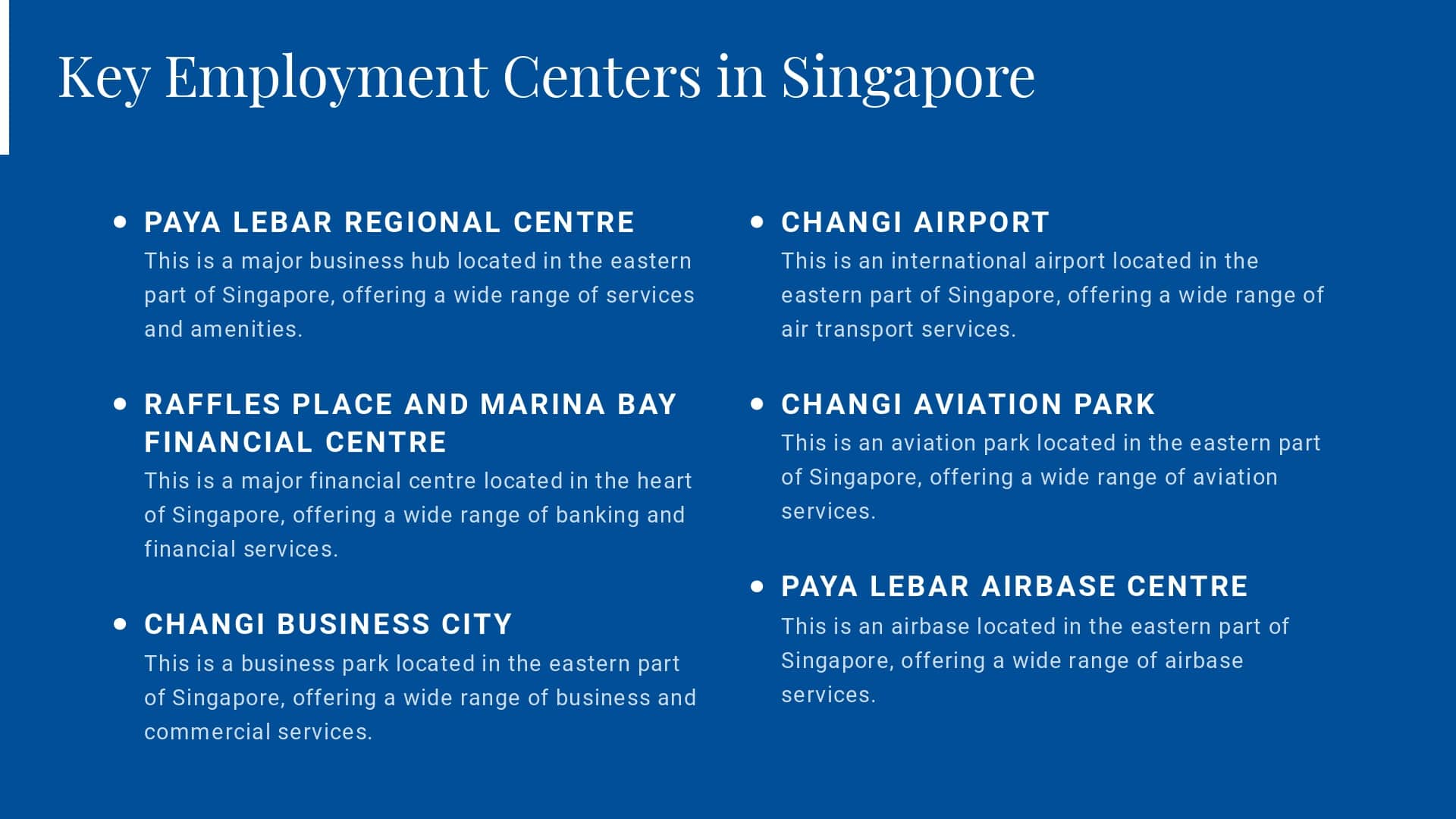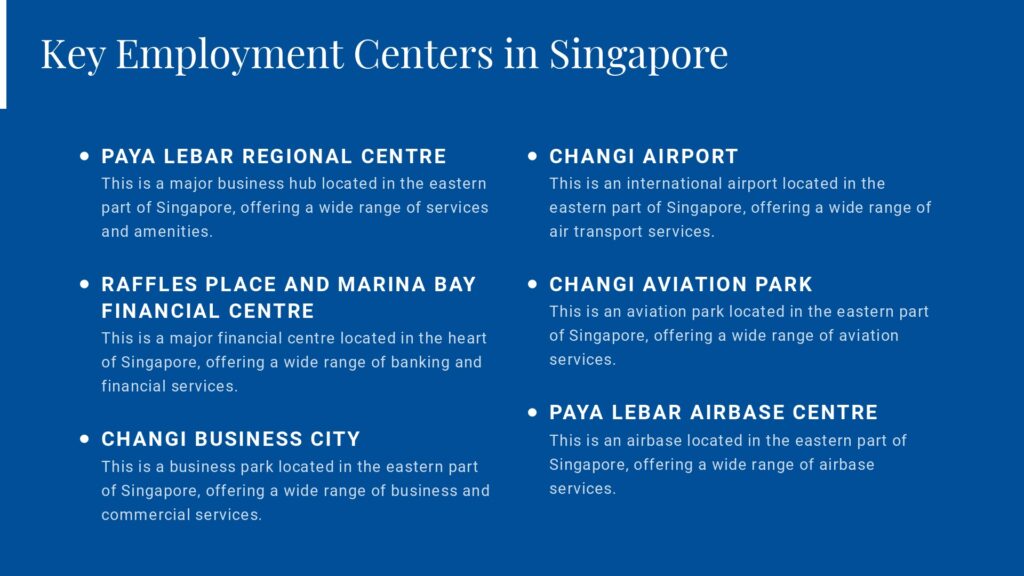 Grand Dunman is ideally located near several important employment centers, making it an excellent choice for residential, professional, recreational, and educational purposes. It is also expected to offer a large pool of potential tenants for real estate investors.
Key employment centers in the vicinity include: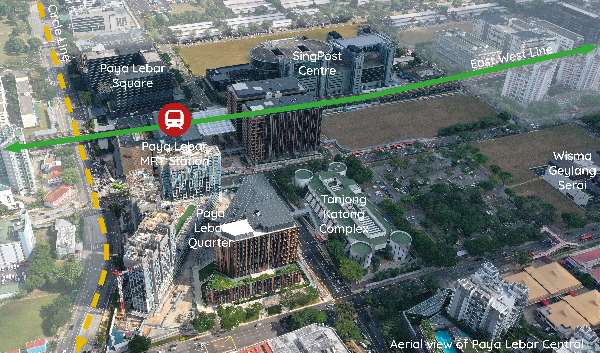 (Aerial view of Paya Lebar Central – Img Credit Reference: URA Singapore)
Paya Lebar Sub-Regional Centre – A mix of commercial, residential, and retail spaces surrounding the Paya Lebar MRT station, designated as one of Singapore's ten Business Improvement Districts.
Raffles Place and Marina Bay Financial Centre – This world-famous financial district, ranked third largest globally, houses numerous multinational corporations and international financial institutions that have set up their regional headquarters here.
Changi Business City, Changi Airport, and Changi Aviation Park – A vibrant, mixed-use area designed to enhance Singapore's reputation as a leading aviation hub in the region.
Paya Lebar Airbase – Covering an area five times larger than Toa Payoh, it is planned to be progressively transformed into a highly livable, sustainable new town and a significant employment center.
Urban Convenience Meets Cultural Legacy: A City Fringe Development Rich in History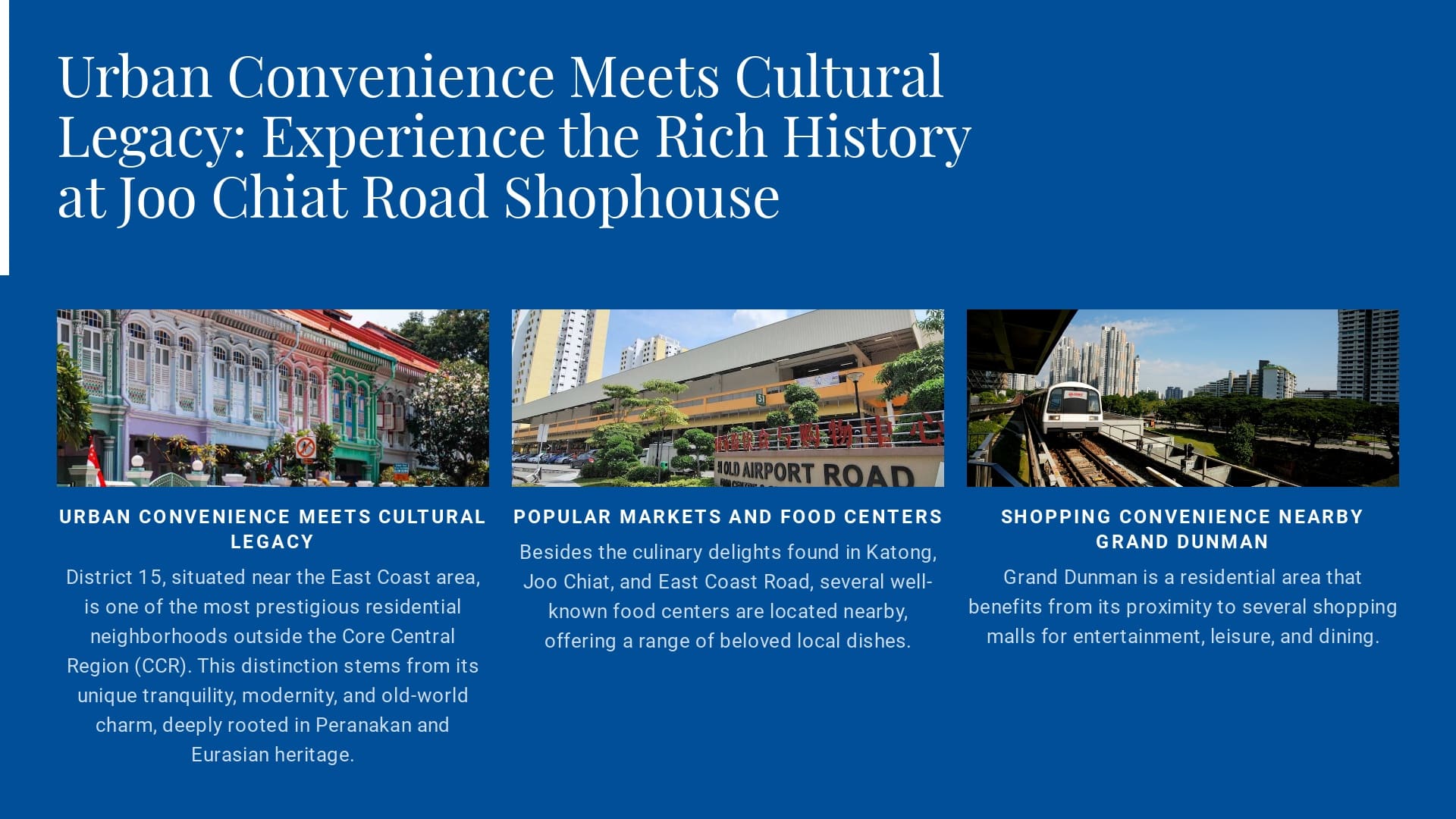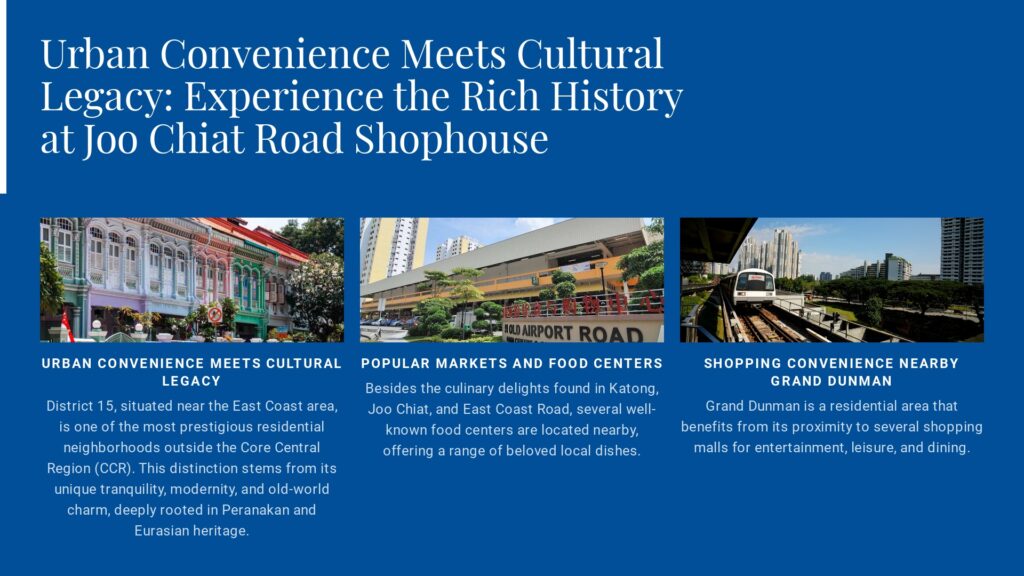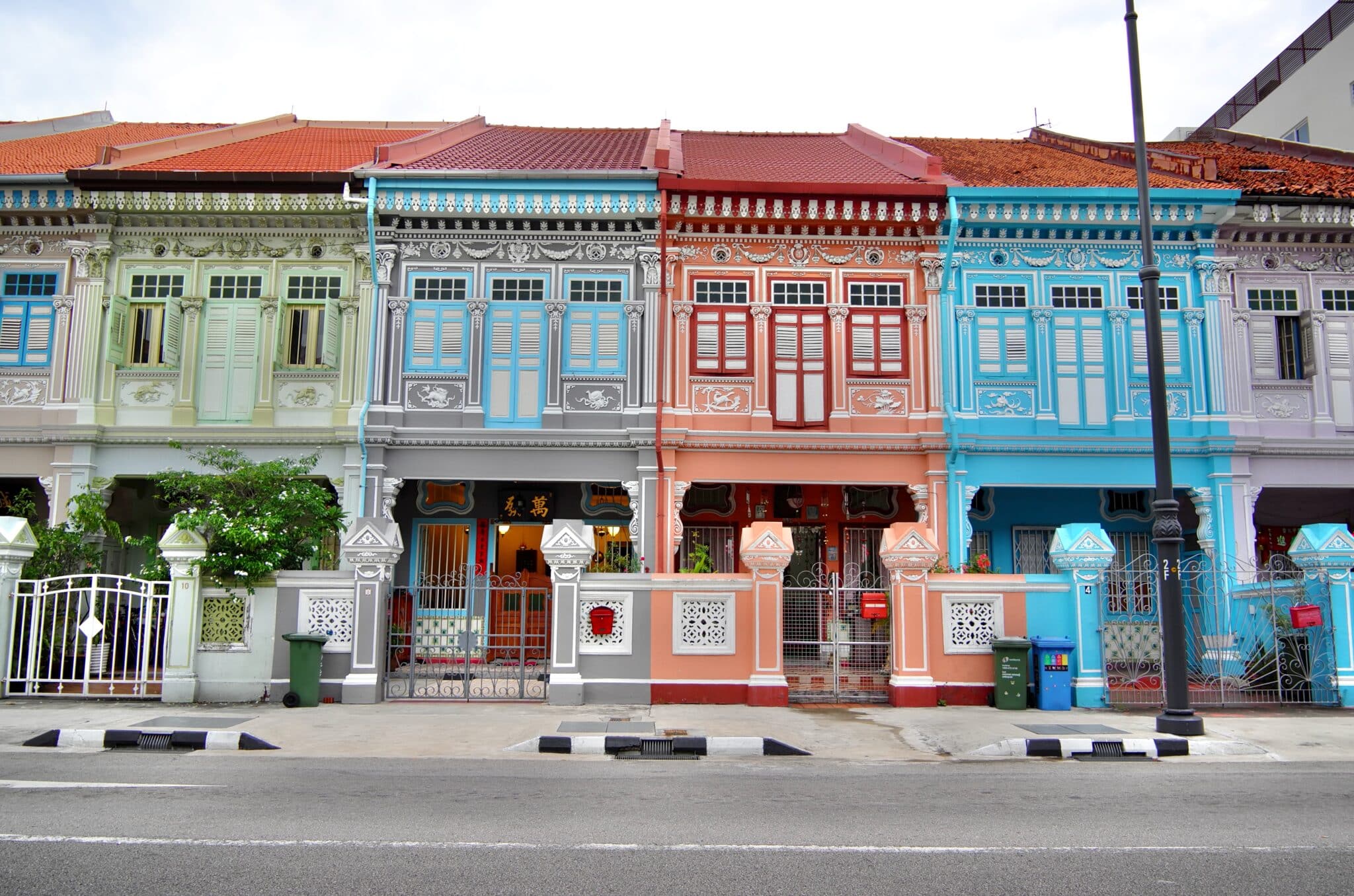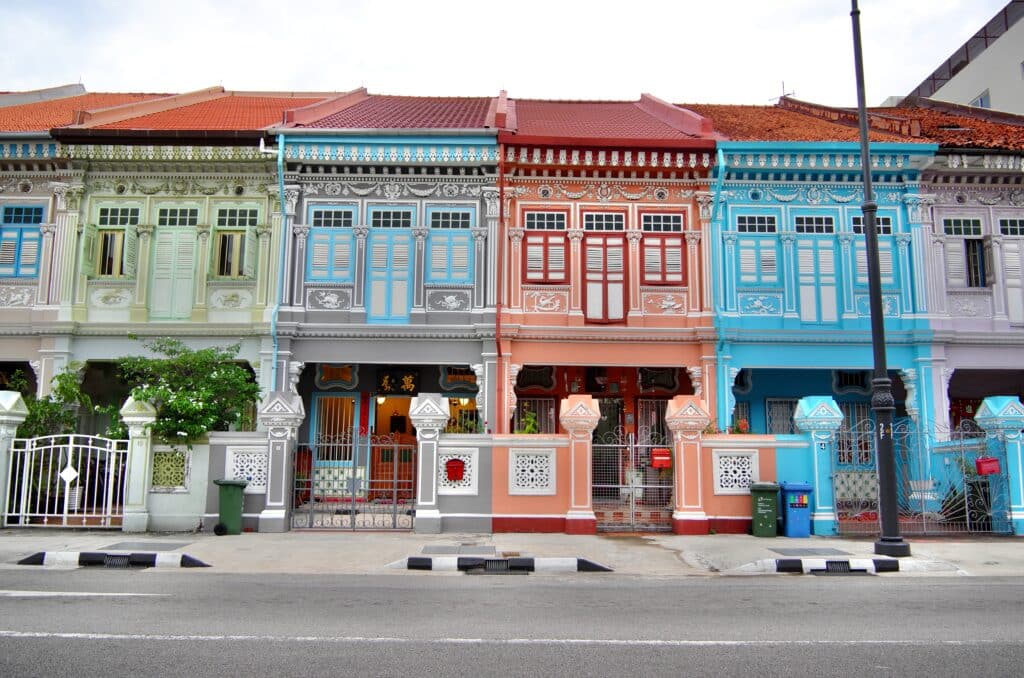 (Img source reference: Wikimedia Commons)
District 15, situated near the East Coast area, is one of the most prestigious residential neighborhoods outside the Core Central Region (CCR). This distinction stems from its unique tranquility, modernity, and old-world charm, deeply rooted in Peranakan and Eurasian heritage.
The Katong and Joo Chiat locale are the primary areas where the Peranakan legacy can be traced. These locations are distinguished for their vibrant shophouses that flaunt intricately designed exteriors endorsed by the Urban Redevelopment Authority for conservation.
Some shophouses have been given a new lease of life by being converted into food and beverage outlets offering a wide gamut of toothsome cuisines. In addition, numerous bars and artisan cafes have added to the area's overall charm, transforming it into a veritable paradise for gastronomes, both domestic and foreign.
Popular Markets and Food Centers Besides the culinary delights found in Katong, Joo Chiat, and East Coast Road, several well-known food centers are located nearby, offering a range of beloved local dishes. These include:
6 Mins walk to Old Airport Road Food Centre
3 Mins drive to Dunman Food Centre
5 Mins drive to Haig Road Market and Food Centre
5 Mins drive to Geylang Serai Market and Food Centre
Shopping Convenience Nearby Grand Dunman
Grand Dunman is a residential area that benefits from its proximity to several shopping malls for entertainment, leisure, and dining.
The Dakota MRT station and bus stops are conveniently located near Grand Dunman, making it easy for residents to access these malls. Some nearby shopping malls include City Plaza, KINEX, Joo Chiat Complex, Tanjong Katong Complex, PLQ Mall, Paya Lebar Square, and Singapore Post Centre.
Additionally, other malls like Katong Shopping Centre, i12 Katong, Parkway Parade, Kallang Wave Mall, and Leisure Park Kallang are slightly further away. For grocery shopping, residents have a choice of supermarkets, such as Hao Mart (KINEX), NTUC Fairprice (Joo Chiat Complex), and Giant (Paya Lebar Square).
Alternatively, residents can visit Haig Road, Geylang Serai Market, and Food Centres. In addition, parkway Parade is a short drive from Grand Dunman, while Kallang Wave Mall is just two MRT stations away from Grand Dunman Condo.
Escape to the Outdoors: Discover East Coast Park Near Grand Dunman
Grand Dunman Condo is a short distance from several popular leisure destinations, making the area even more attractive for residents. One such destination is East Coast Park, which offers outdoor activities such as jogging, cycling, and water sports like windsurfing, canoeing, and stand-up paddling. There are also children's playgrounds like Coastal PlayGrove and Marine Cove, providing families with fun activities like net climbing, slides, rope bridges, and talking tubes.
Another nearby attraction is the Singapore Sports Hub, offering entertainment, sports, and outdoor recreational options for people of all ages. These include swimming lessons, kayaking, lawn bowling, rock climbing, and water play at Splash-N-Surf. The Kallang Alive master plan will bring even more facilities to the area, such as the Kallang Football Hub, Singapore Tennis Centre, and a Youth Hub with a velodrome, speed climbing facilities, and BMX tracks.
The Goodman Arts Centre is another leisure destination within a 12-minute walk from Grand Dunman. It hosts over 40 arts groups and offers dance, theatre, poetry, and exemplary art programs. The Artground, located within the Goodman Arts Centre, is a place for children and families to experience positive arts experiences and for local artists to co-create meaningful arts experiences with young audiences. Activities offered include dance classes, digital arts, and music workshops.
Schools Nearby the Grand Dunman Neighbourhood
Grand Dunman's location within a 2km radius of several popular schools provides a significant advantage for families with school-going children and property investors. These schools prioritize children registering for Primary 1 admission under the Education Ministry's distance-based allocation system. According to a study from the NUS Institute of Real Estate Studies, properties located near popular schools are known to command a price premium.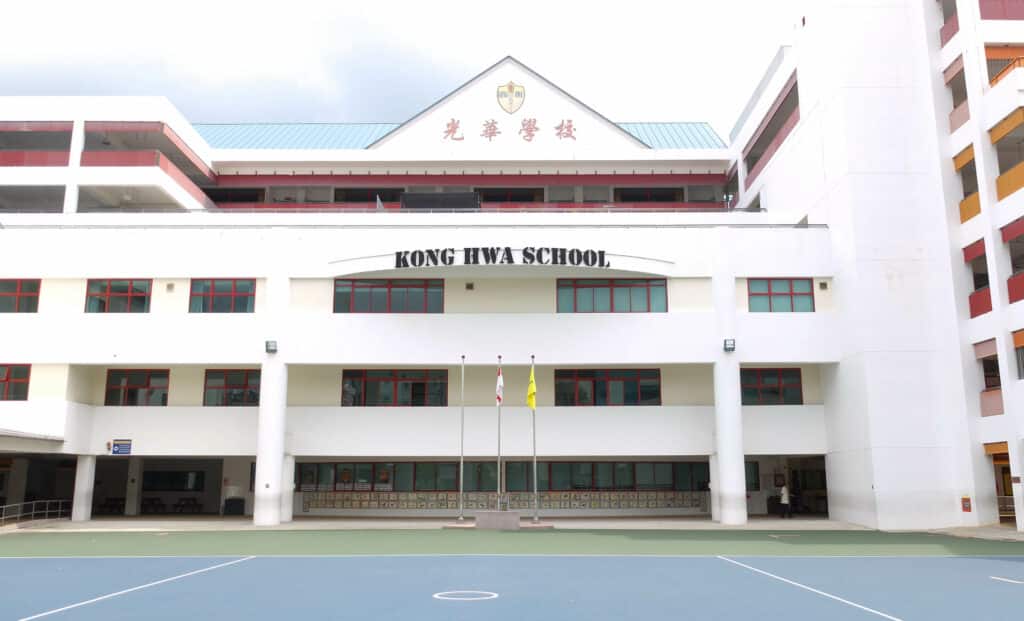 (Img Credit Reference: Wikimedia Commons)
The list of primary schools within a 2km radius includes Kong Hwa School, Haig Girls' School, Tanjong Katong Primary School, and Geylang Methodist School (Primary). Meanwhile, several secondary schools are also located nearby, such as Broadrick Secondary School, Chung Cheng High School (Main), Tanjong Katong Girls' School, Tanjong Katong Secondary School, CHIJ Katong Convent, Dunman High School, Victoria School, and two junior colleges, Victoria Junior College and Temasek Junior College.
Several international schools are located near Grand Dunman, which could attract housing demand from expatriates working in the employment hubs nearby. The nearest international school, EtonHouse International School Broadrick, is just a 5-minute walk away, while others, such as Canadian International School, Olympiad International School, 5 Steps Academy, and Nexus International School, are 4-8 minutes drive away. This makes Grand Dunman a potentially attractive option for those looking for property investment, with a ready catchment of tenants.
Property Growth Analysis of Grand Dunman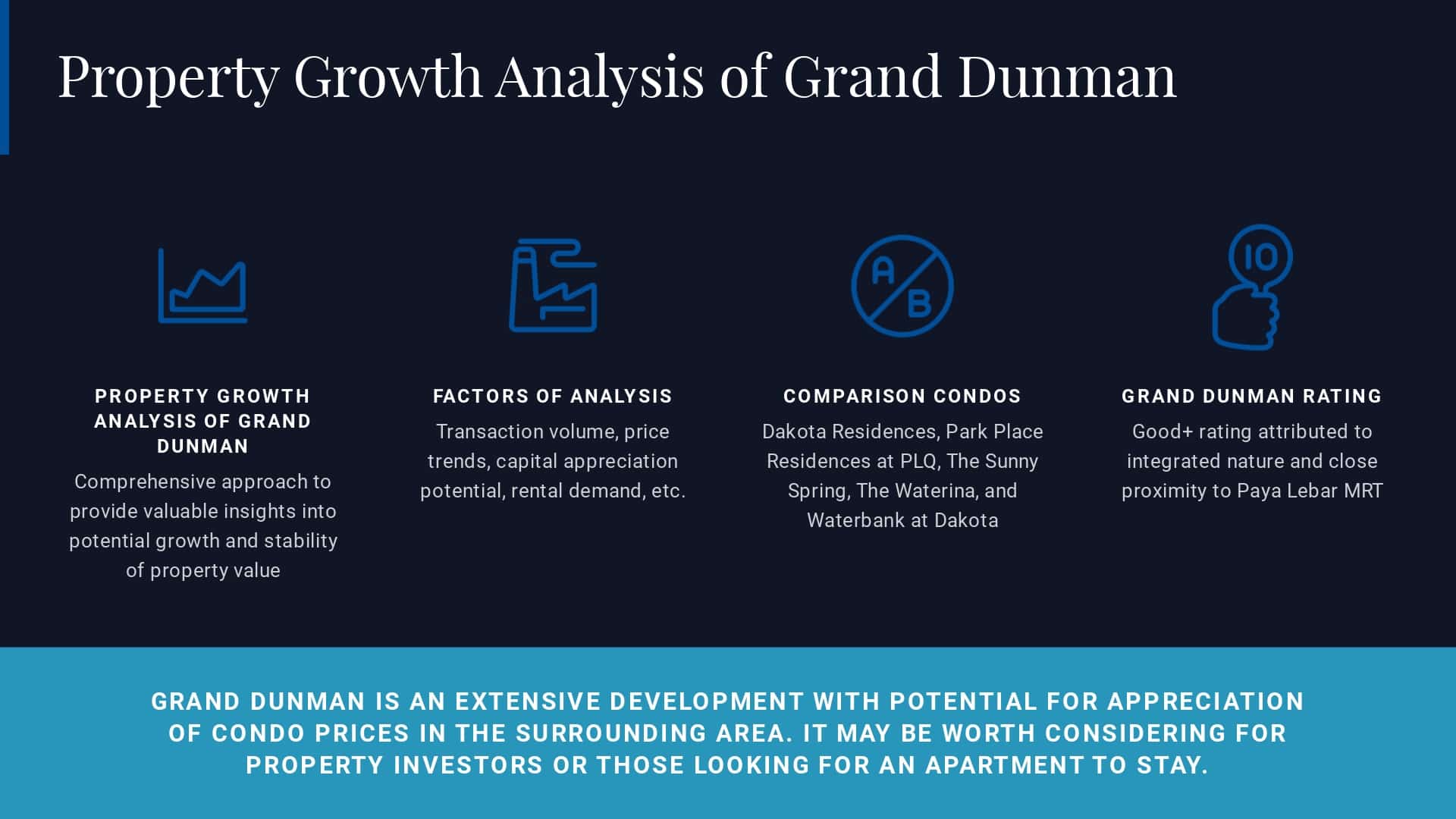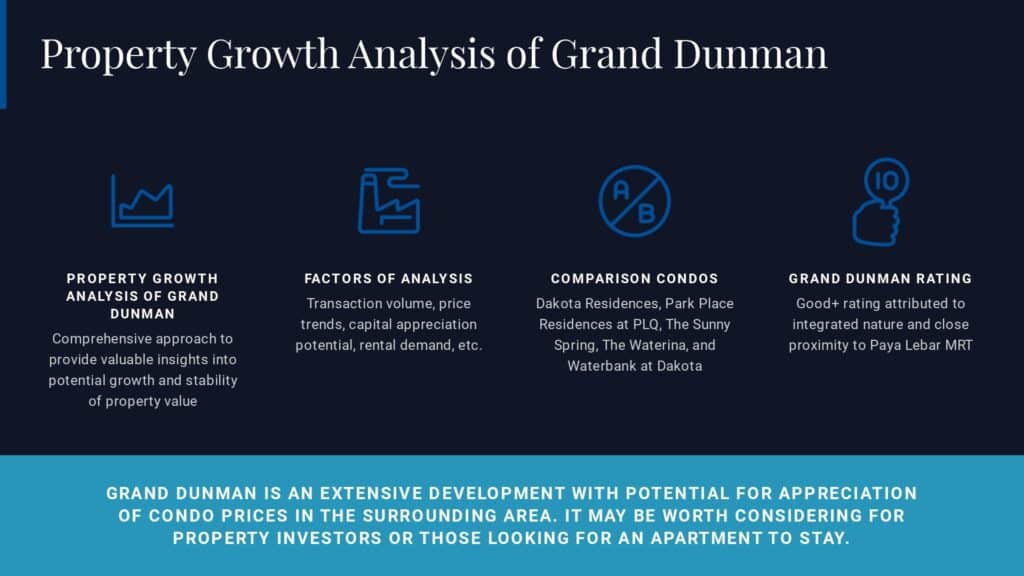 Next, we will run through Grand Dunman using our Property Growth Analysis Methodology. Our Property Growth Analysis Methodology is a comprehensive approach designed to provide valuable insights into the potential growth and stability of a property's value. Considering key crucial factors, this methodology helps investors and homeowners make informed decisions when purchasing a property. 
The factors of our Analysis include vital considerations such as transaction volume, property's price trends and capital appreciation potential, demand for rental in the area, price of the property, property's proximity to schools, distance to nearby MRT stations, the future development potential of the surrounding estate, the desirability of the property's district, population density of the area and property's position on the property cycle curve.
We have identified some of the surrounding condominium projects, which we will use as a gauge for the growth analysis of Grand Dunman. The selected condominium properties will be analysed based on their development size, location, and recency of development. The comparison condos are Dakota Residences, Park Place Residences at PLQ, The Sunny Spring, The Waterina, and Waterbank at Dakota. 
According to our Property Growth Analysis, the comparison condos' average rating is Good, with Park Place Residences at PLQ rating of Good+. This is attributed to the development's integrated nature and close proximity to Paya Lebar MRT, connected to both the East-West Line and Circle Line. Waterbank at Dakota, with a rating of Good, is the development nearest to Grand Dunman and also has a moderately high score. Overall, the condos in this area perform well due to high rental demand, affordable prices, the convenience of the MRT station, and, most important the desirability of the property's district. 
Boasting an estimated 1,000+ units, Grand Dunman certainly lives up to its hype regarding size and offering. The extensive development size may serve as a potential catalyst for the appreciation of condo prices in the surrounding area if transaction volume increases in the area due to this new launch. If you are already a ready property investor, this project may be worth considering if you are still in the market for an investment property or an apartment for your stay.
Review Conclusion and Takeaway
It's essential to carefully evaluate the pros and cons of Grand Dunman to determine if it meets your family's unique needs. Remember that every property has distinct features, and what suits one family may not be ideal for another. To aid in your decision-making, consider the key advantages and disadvantages of the property. Purchasing a residential property is a major commitment, so thorough research and careful consideration of all factors are vital before finalizing the decision.
Grand Dunman Condo is an upcoming development that offers an excellent opportunity for property investors and those seeking a modern and convenient living space. Situated in close proximity to various leisure destinations, established schools, and transportation options, this development offers a wide range of amenities for residents. The well-designed units and high-quality facilities in an excellent location are expected to generate high demand. Therefore, it is wise for potential investors to register early for a preview of the Grand Dunman show flat, as this is an opportunity to secure a highly sought-after unit in the heart of Grand Dunman.